Online tutoring
The easiest and quickest way to meet your tutor
We invite you to open a demo session
1 877 988-8672
Technology in the service of teaching

The School Success platform allows online sessions in real-time thanks to the audio-video functions. For optimal support, our platform includes functions such as:

An interactive table (on which the student and tutor can work simultaneously)
Document sharing
Screen sharing
Math tools

Flexible and quick

The online tutoring service offers, above all, great flexibility. In fact, choosing a tutor can be done much more quickly since we don't have any constraints with respect to travel and distance. Also, for those who are looking for quick or one-time help (for example, an emergency meeting before an exam), online tutoring allows a student to have access to a qualified tutor within a very short delay. This service is therefore ideal for those who want quick answers on specific topics.

Recording sessions

All our online sessions are recorded and can be reviewed by you or your child. This allows the student to review certain explanations and the parent to be aware of the work being done during the meetings.
Get started quickly and easily
Call us, we will look into what you need.

We will match you to one of our online tutors.

Start tutoring
Dial
1 877 988-8672
Tutoring 101: How to make tutoring more efficient?
This guide will help you make tutoring more efficient.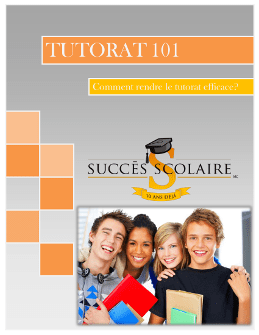 Here are a few points addressed in the Tutoring 101 guide:
How to prepare for the first meeting with your tutor.
What is the role of the parent with respect to tutoring?
Frequency, duration, and number of hours of tutoring: is there a magical formula?
5 qualities of a good tutor
Interview with Marichelle, tutor at School Success
Top