Learning Skills Workshops
Is your child struggling to thrive at school?
We can help them reach their full potential.
Discover our Learning Skills Workshops!
Winning Strategies - Pathways to Success - Academic Flourishing
Online Workshops for a Personalized Experience

Our Learning Skills Workshops aim to develop winning strategies, time management skills, effective study methods, and address anxiety management. Our goal is to equip every young individual to strengthen their self-esteem, promote their academic growth, and ensure lasting success.

It's important to note that these workshops do not focus on specific academic subjects. Each week, our experienced school rehabilitation experts guide students in acquiring essential skills to excel as learners, by developing their study methodology and enhancing their ability to positively influence their academic success. Students have the opportunity to put these strategies into practice, integrating them effectively into their routines.

These workshops are designed for secondary 1 and 2 school students. Each group of students is led by two school rehabilitation experts, ensuring an optimal student-to-facilitator ratio of 1 to 10. The session spans 13 weeks, from October 14th to January 20th, with a two-week break during the holiday season. Each workshop is one hour per week.

For more details about our program, please click on 'Register' to access all the information.

Guided by Experienced school rehabilitation experts

Our Learning Skills Workshops are led by experienced school rehabilitation experts, with the support of our educational counselor. They are passionately dedicated to the success of students, working diligently to understand each young individual and provide guidance throughout their journey.

Starting from the very first session, students will delve into the program of the session and become familiar with the use of their digital exercise book, a vital tool for honing their skills. Additionally, every student will receive a portfolio for self-reflection on their learning process, addressing challenges, and setting objectives. This material is included upon registration.

Furthermore, we actively encourage parents to engage by receiving comprehensive weekly communications about the sessions, which will also feature valuable advice for effectively supporting their child.

Are our Learning Skills Workshops right for your child?

Are you wondering if the workshops can truly impact your child's educational journey? Consider these questions:

Does your child struggle in multiple subjects or has experienced long-term difficulties?
Do they feel anxious during assessments, even when well-prepared?
Is organization and taking action a challenge for them?
Did they have a tough transition from primary to secondary school?
Do they have one or more learning disorders?

If you've answered 'yes' to one or more of these questions, our Learning Skills Workshops can make a significant difference in your child's school experience. With our personalized approach, your child will gain self-awareness as a student, identifying both their challenges and strengths. This empowers them to adopt strategies and tools tailored to their unique profile, allowing them to utilize these resources effectively.

This is the key to unlocking your child's full potential in their academic journey!
Get started quickly and easily
Call us, we will look into what you need.

We will match you to one of our online tutors.

Start tutoring
Dial
1 877 988-8672
Our services
Services customized
to the needs of every student
Students who've received help
of our students improve their grades
of our clients would recommend us to a friend
Do you have any questions?
Our advisors are here to help!
Dial 1 877 988-8672
Speak to a specialist
Toll-free
Dial
1 877 988-8672
Tutoring 101: How to make tutoring more efficient?
This guide will help you make tutoring more efficient.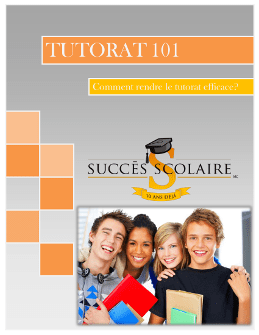 Here are a few points addressed in the Tutoring 101 guide:
How to prepare for the first meeting with your tutor.
What is the role of the parent with respect to tutoring?
Frequency, duration, and number of hours of tutoring: is there a magical formula?
5 qualities of a good tutor
Interview with Marichelle, tutor at School Success
Top