Summer school
Summer school with School Success:
a second chance to succeed!
You child needs summer school?
Here are the approaches we offer:
Online courses

This new approach allows a student to retake a class in the comfort of their own home while at the same time receiving the same teaching quality and support as in a classroom.

The simple, user-friendly platform used is accessible from a computer or a tablet. These are live courses offered by a teacher and not pre-recorded videos.

To learn more about the summer school online approach, click here.

Tutoring to support learning

To support our students, we offer tutoring blocks (6 or 12 hours) in order to encourage the consolidation of their learning. Students who subscribe to support learning tutoring blocs must follow a online class with us.

Tutoring block

It is possible for a student to register for a tutoring block (10 hours or 20 hours) to consolidate his learning in a specific subject or skill.

Please note that no evaluation is done when the tutoring hours are completed and, therefore, no report card is issued. However, a follow-up report on the student's work as well as an attestation of the number of hours completed is given to the student's family and school, if desired, once the tutoring is completed.
Get started quickly and easily
Call us, we will look into what you need.

We will match you to one of our online tutors.

Start tutoring
Dial
1 877 988-8672
Our services
Services customized
to the needs of every student
Students who've received help
of our students improve their grades
of our clients would recommend us to a friend
Do you have any questions?
Our advisors are here to help!
Dial 1 877 988-8672
Speak to a specialist
Toll-free
Dial
1 877 988-8672
Tutoring 101: How to make tutoring more efficient?
This guide will help you make tutoring more efficient.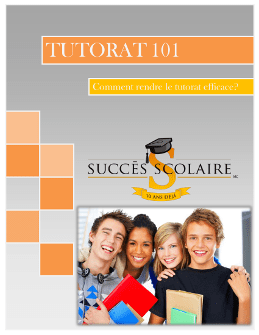 Here are a few points addressed in the Tutoring 101 guide:
How to prepare for the first meeting with your tutor.
What is the role of the parent with respect to tutoring?
Frequency, duration, and number of hours of tutoring: is there a magical formula?
5 qualities of a good tutor
Interview with Marichelle, tutor at School Success
Top